EPA OUTLAWS CHOPPERS MOTORCYCLES
Make America Roar Again
2006 EPA LAW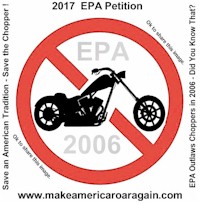 All 2007 up Motorcycles Must be Emissions Compliant:
Exceptions to the Rules – Custom Motorcycles and Motorcycle Kits A + B
40 CFR 85.1707 / 40 CFR 86.407-78(c)
A: Kit Bike Exemption: This exemption lets you personally build "ONE AND ONLY ONE KIT MOTORCYCLE IN YOUR LIFETIME" and drive it all the time without EPA regulations, BUT, you must buy all the parts and build it yourself, or have someone build it for you, but they can not buy any parts for you. I see the method here, sneaky way to shut down a shop from building a bike and then selling it, screwed by the EPA, but wait it gets better ...
B: Small Manufacturer Exemption: This states that a small manufacturer can build up to 24 bikes per year. BUT, you must attach this label:
THIS MOTORCYCLE IS EXEMPT FROM EPA
EMISSION REQUIREMENTS. ITS USE
ON PUBLIC ROADS IS LIMITED
PURSUANT TO 40 CFR 86.407–78(c).
Here lies the problem, who is going to buy a custom built chopper they can not drive? EPA is setting us up to fail or break the law.
The law needs to be changed to read, any American made motorcycle manufacture that builds less than 52 bikes per year shall be exempt from EPA regulation for no more that 52 motorcycles sold.
Just to note again, this does not exclude any other Department of Transportation regulations, Only EPA Emissions on 52 motorcycles.
The complete law is here:
Here is the actual Law that put many out of business – See Page 19
This 2006 EPA laws on Motorcycles Killed the entire Custom Motorcycle Industry as predicted !
This is what KILLED the motorcycle industry, FACT.
Articles were written in 2007 stating that this law would kill the custom bike industry (SVM, Small Vehicle manufacturer) :
http://www.motorcycle-usa.com/2007/02/article/motorcycle-emissions-regs-examined/
"The new burdens of the EPA restrictions were deemed a potential industry killer for the SVMs when they were revealed in 2004"
http://www.makeamericaroaragain.com