EPA OUTLAWS CHOPPERS MOTORCYCLES
Make America Roar Again
VIDEOS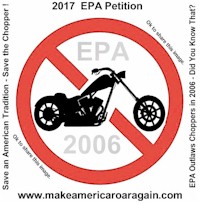 More added as I move along.
Morre Coming Soon
.
Videos Below Proving Most of the Custom Bikes are Gone
2017-04-06 - Connors Report Phone Interview
2017 - Cabbage Patch - Explaining EPA Anti-Motorcycle Laws to a Vendor
2017 - Rossmeyers Harley Dealer - 2017 Daytona Bike Week
Also search YouTube for Bikeweek 2017
Lots of modified OEM Harleys - Very Few Custom bikes
Videos Below Show the Way it Was Before EPA Laws Killed Chopper Business
2006 - The way it was - Before the 2007 EPA Laws killed the Chopper Business - FACTS
This page will be edited soon.
http://www.makeamericaroaragain.com