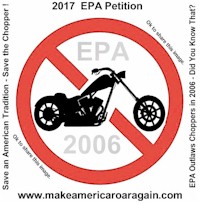 Make America Roar Again
DONATIONS
CURRENT DONATIONS TO DATE
04-12-2017
$0.00
Updated Monthly
I am now accepting donations to cover expenses and expand my mission.
This is costing me thousands and as I said I am a one man show.
Please help if you can, my books are always open.
All money collected will only be used to change the EPA Law: 40 CFR 85.1707 / 40 CFR 86.407-78(c)
Donations are being accepted to help me cover:
1: Printed Material
2: Transportation
3: Lodging - (Note: I will also accept a floor to crash on during events).
Checks can be written out to:
Make America Roar Again
Donate $5.00
.
Donate $10.00
.
Donate $20.00
.
Donate $50.00
.
Donate $100.00
.
Donate $500.00
.
Donate $1000.00
.
http://www.makeamericaroaragain.com