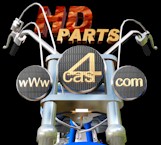 HARLEY PARTS
High Quality Parts from CAS4
WISECO V-ROD
1320cc Big Bore Kit
It's tradition. If a big Harley-Davidson motor is good, a bigger one is better. We've been doing this forever, adding inches to our favorite V-twins, and displacement-enhancing packages for Flatheads, Knuckles, Pans, Shovels, Evos, and Twin Cams are old news. Good news, mind you, but nothing earth-shattering, right? Well, here's something that is: Wiseco's just released a bolt-on "big bore" kit for the newest generation Harley, the liquid-cooled V-Rod.
Wiseco's brand-new V-Rod Big Bore Kit bumps
displacement from 1130cc (stock) to a hefty 1317cc.

Estimated Prices
Big Bore Kit - $1500.00
Machine Services $ 1500.00
.
Wiseco's new 4 1/4-inch bore sleeves and the high-compression pistons that fill them (12:1, up a full point from stock) bumps the V-Rod from its anemic 1130cc stock displacement all the way up to a hefty and definitely muscular 1317cc. For naming purposes, Wiseco's rounded it off to the "1320 Kit." Besides those hard parts, the new sleeves and pistons, the Wiseco kit includes the special oversize gaskets needed along with everything else to reassemble the engine.
One caveat here. We called the kit a "bolt on," and that's true—with an explanation. It takes some pretty specialized crankcase machining to fit these big, oversize sleeves to the factory Harley-Davidson cases. In fact, that machining is the most critical step in installing the kit, and a typical boring bar isn't up to what's required here. It takes a CNC machining center equipped with special fixtures to properly make the Harley-Davidson cases ready to accept the new Wiseco sleeves. All the factory under-cuts, locating shoulders, bevels and precise radiuses must be duplicated, in a bigger size. The V-Rod, remember, is liquid-cooled, and if the liquid is going to stay where it belongs and do some cooling this machining is critical. None of that's a problem, though, because Wiseco offers the machining to go along with the kit. (As this is written there are only two places where this close-tolerance V-Rod machining can be done: Wiseco itself, and Zipper's Performance. Machining done anywhere else voids all warranties.)
Once the cases have been properly machined, the big-bore V-Rod engine assembles just as easily as a stocker. It maintains the factory O-ring seals, and to avoid any distortion whatsoever the Wiseco sleeves have the same wall thickness as the factory Harley-Davidson pieces they replace. The kit's high-compression pistons are some pretty special two-ring, low-friction, slipper-skirt designs, using a proprietary oil ring. The big-bore pistons are specific to the cylinders, too, designed especially for the cylinder head they work under; one piston is for the front cylinder, a different one for the rear. The pistons are made from the same material Wiseco uses for its NASCAR and Indy customers, too, the highest grade, 2000-series aircraft quality forged alloy.
Wiseco's V-Rod big-bore kit is brand new. It's only been available since the first of June 2003. Wondering if there's a market for this? You're kidding, right? A Harley-Davidson big-bore kit? Wiseco's selling them as fast as they can make them, and you can, too. Call us for ordering information, pricing, and machining schedules.
CAS4 Incorporated - 845-786-0620


If you don't see it here, E-mail us.
We haven't had a chance to post it yet.

IMPORTANT:



We at CAS are not a representative of any motorcycle manufacturer and the
parts we sell are not necessarily recommended by any motorcycle manufacturer.

Although our replacement parts are not original factory equipment, our intention
is to provide quality replacement parts that meet or exceed standards set by the
manufacturer.

We are not an authorized Harley® dealer and in no way do we have, or intend to
imply any kind of business relationship with Harley-Davidson Motor Company® .

Our intention is to provide products that can be used on a Harley-Davidson®
motorcycle.

CAS sells officially licensed Harley-Davidson® products.
However, any products with the trademark, name, word or OEM part number
used in this catalog by CAS is intended to be as a reference only to
the usage of that particular product. None of the parts and accessories in this
catalog were manufactured by or with the permission of the Harley-Davidson®
Motor Co. The words, TC88, Electra Glide, Evolution, H-D, Harley, Harley-Davidson, Low
Glide, Road King, Roadster, Softail, Sportster, Sturgis, Super Glide, Low Rider, and
Wide Glide are registered trademarks of Harley-Davidson® Inc., Milwaukee
Wisconsin, U.S.A. The words, VROD, V-ROD, Duo Glide, Dyna Glide, Fat Boy, Hydra Glide
and Bad Boy are trademarks of Harley-Davidson®, Inc., Milwaukee, Wisconsin, U.S.A.
The following model designations for Harley-Davidson® motorcycles are used in
this catalog for reference only: EL, FL, FLH, FLHR, FLHS, FLHT, FLHTC, FLHTC-I,
FLHTS, Ultra, FLHX, FLST, FLSTC, FLSTF, FLSTN, FLSTS, FLT, FLTC, FLTC Ultra,
FXB, FXD, FXDB, FXDC, FXDG, FXDL, FXDS, FXDS-Conv., FXDWG, FXE, FXEF,
FXLR, FXR, FXRC, FXRD, FXRDG, FXRP, FXRS, FXRSE, FXRS-Conv., FXRS-SP,
FXRT, FXS, FXSB, FXST, FXSTC, FXSTD, FXSTS,FXSTSB, FXWG, GE, K, KH, WL, WLA,
XL, XLCH, XLCR, XLH, XLH 883, XLH 1100, XLH 1200, XLR, XLS, XLT, XLX and
XR1000. Buell, S1, S2, M2, Cyclone, Lighting, Thunderbolt, X1. All other brand names
or trademarks, or registered trademarks used in this catalog are the property of their
respective holders.

Please review our terms and conditions page Thank You