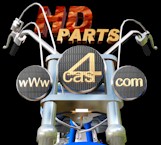 HARLEY PARTS
High Quality Parts from CAS4
Harley Bagger 23" Front Wheel
BOLT ON TRIPLE TREE KIT
CALL 845-786-0620
23" Bolt on Bagger Trees
Made in USA the first bolt on bagger tree that has the proper trail for a 23" front wheel. If you want to mount a 23" wheel to your FL and you don't want to cut your neck, our 23" bolt on bagger trees are a must! We engineered these trees to bolt onto your stock frame while correcting your front end geometry. Our engineers reconfigured the tree's geometry and critical dimensions to bring your trail to 6.5, which is right where your stock trail is. The headlight and fairing angle is corrected so there is no need for a raked fairing or any headlight trim kits. If you want your frame to sit level, you can run a 1" lowering kit with our extended fork stops and still have plenty of travel. We are so confident in this product that we offer a 100% wobble free guarantee. Check out the many points of difference below between a Pickard Bolt on Bagger Tree and our competitors trees...
We do have other kits that requires frame cutting for a more radical look.
| | | | |
| --- | --- | --- | --- |
| Part # | Description | List Price | Your Price |
| PICTR23SIL | Raw Aluminum Machine Finish Trees as litsted above | $995.95 | $825.95 |
| PICTR23BLKJ | Black Aluminum Machine Finish Trees as litsted above | $1025.95 | $875.95 |
Engineered to bolt on a stock frame with no modifications

6 deg rake

6.5" trail (stock is 6.6")

Stock or better handling characteristics

Fits all 97 and up FL models without trim kits

No need to trim fairing for fork leg clearance on Road Glide applications

Does not require fork extensions

Neck preload adjustment nut is on bottom tree. No need to take off fairing for adjustment

Slots through top and bottom tree to run brake lines through trees down to the brake calipers (clean and effective for builders)

Headlight angle is adjusted in tree, no need for a raked wedge/bucket

Bottom tree features a double pinch style clamp – much stronger than single style clamp

Kicks wheel forward about 2" from stock

Can use 1" lowering kit and still maintain trail. Will not affect handling!

Can use 16, 17 or 18 inch rear wheel. Will not affect handling!

Can use a rear lowering kit or rear air-ride. Will not affect handling!

3" of clearance between fender and bottom tree (even with 1" front lowering kit)

Can use engine guard even with lowered front

Stock fork lock still works

Over 300 sets sold last year with no negative feedback or returns

Only tree on the market that offers a 100% WOBBLE FREE GUARANTEE
ACCEPT NO IMMITATIONS! Don't settle for an inferior tree or a knock off version. We have perfected the bolt on bagger tree and our inhouse engineers continue to develop and improve our design. Make sure you ask for the latest version with all the newest upgrades!


If you don't see it here, E-mail us.
We haven't had a chance to post it yet.

IMPORTANT:



We at CAS are not a representative of any motorcycle manufacturer and the
parts we sell are not necessarily recommended by any motorcycle manufacturer.

Although our replacement parts are not original factory equipment, our intention
is to provide quality replacement parts that meet or exceed standards set by the
manufacturer.

We are not an authorized Harley® dealer and in no way do we have, or intend to
imply any kind of business relationship with Harley-Davidson Motor Company® .

Our intention is to provide products that can be used on a Harley-Davidson®
motorcycle.

CAS sells officially licensed Harley-Davidson® products.
However, any products with the trademark, name, word or OEM part number
used in this catalog by CAS is intended to be as a reference only to
the usage of that particular product. None of the parts and accessories in this
catalog were manufactured by or with the permission of the Harley-Davidson®
Motor Co. The words, TC88, Electra Glide, Evolution, H-D, Harley, Harley-Davidson, Low
Glide, Road King, Roadster, Softail, Sportster, Sturgis, Super Glide, Low Rider, and
Wide Glide are registered trademarks of Harley-Davidson® Inc., Milwaukee
Wisconsin, U.S.A. The words, VROD, V-ROD, Duo Glide, Dyna Glide, Fat Boy, Hydra Glide
and Bad Boy are trademarks of Harley-Davidson®, Inc., Milwaukee, Wisconsin, U.S.A.
The following model designations for Harley-Davidson® motorcycles are used in
this catalog for reference only: EL, FL, FLH, FLHR, FLHS, FLHT, FLHTC, FLHTC-I,
FLHTS, Ultra, FLHX, FLST, FLSTC, FLSTF, FLSTN, FLSTS, FLT, FLTC, FLTC Ultra,
FXB, FXD, FXDB, FXDC, FXDG, FXDL, FXDS, FXDS-Conv., FXDWG, FXE, FXEF,
FXLR, FXR, FXRC, FXRD, FXRDG, FXRP, FXRS, FXRSE, FXRS-Conv., FXRS-SP,
FXRT, FXS, FXSB, FXST, FXSTC, FXSTD, FXSTS,FXSTSB, FXWG, GE, K, KH, WL, WLA,
XL, XLCH, XLCR, XLH, XLH 883, XLH 1100, XLH 1200, XLR, XLS, XLT, XLX and
XR1000. Buell, S1, S2, M2, Cyclone, Lighting, Thunderbolt, X1. All other brand names
or trademarks, or registered trademarks used in this catalog are the property of their
respective holders.

Please review our terms and conditions page Thank You