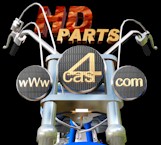 HARLEY PARTS
High Quality Parts from CAS4
NOS
Nitrous Oxide Kits

IF YOU NEED ANY NITROUS PRODUCTS - GIVE US A CALL
Nitrous oxide injection systems from NOS offer more additional performance per dollar spent than most other modifications. They are easier to install than most big bore or stroker kits and because nitrous is only used when needed, you get the benefits of normal operation when you're not "on the button." The NOS direct port system is fully adjustable and will produce a 30% to 40% increase in horsepower and torque with the jets supplied. Fogger kit can be installed in an afternoon and comes complete with detailed, easy-to-follow instructions, 10 oz. bottle (empty), nitrous and fuel solenoids, nozzles, filters, fuel pump, jets, switch, hose and other hardware necessary for complete installation.
Note: Machining, drilling, tapping and other minor mechanical and electrical work is required to complete the installation. Some installations will require high flow petcock - not included. Bottle shipped empty to meet UPS regulations (call 1-800-997-3345 for nitrous supplier in your area).
WARNING!
Nitrous Oxide Kits are not legal for sale or use on street or highway vehicles. You must check with your local police department before ordering. The engine and driveline MUST be in sound condition to withstand the additional power produced. These kits are not returnable.


If you don't see it here, E-mail us.
We haven't had a chance to post it yet.

IMPORTANT:



We at CAS are not a representative of any motorcycle manufacturer and the
parts we sell are not necessarily recommended by any motorcycle manufacturer.

Although our replacement parts are not original factory equipment, our intention
is to provide quality replacement parts that meet or exceed standards set by the
manufacturer.

We are not an authorized Harley® dealer and in no way do we have, or intend to
imply any kind of business relationship with Harley-Davidson Motor Company® .

Our intention is to provide products that can be used on a Harley-Davidson®
motorcycle.

CAS sells officially licensed Harley-Davidson® products.
However, any products with the trademark, name, word or OEM part number
used in this catalog by CAS is intended to be as a reference only to
the usage of that particular product. None of the parts and accessories in this
catalog were manufactured by or with the permission of the Harley-Davidson®
Motor Co. The words, TC88, Electra Glide, Evolution, H-D, Harley, Harley-Davidson, Low
Glide, Road King, Roadster, Softail, Sportster, Sturgis, Super Glide, Low Rider, and
Wide Glide are registered trademarks of Harley-Davidson® Inc., Milwaukee
Wisconsin, U.S.A. The words, VROD, V-ROD, Duo Glide, Dyna Glide, Fat Boy, Hydra Glide
and Bad Boy are trademarks of Harley-Davidson®, Inc., Milwaukee, Wisconsin, U.S.A.
The following model designations for Harley-Davidson® motorcycles are used in
this catalog for reference only: EL, FL, FLH, FLHR, FLHS, FLHT, FLHTC, FLHTC-I,
FLHTS, Ultra, FLHX, FLST, FLSTC, FLSTF, FLSTN, FLSTS, FLT, FLTC, FLTC Ultra,
FXB, FXD, FXDB, FXDC, FXDG, FXDL, FXDS, FXDS-Conv., FXDWG, FXE, FXEF,
FXLR, FXR, FXRC, FXRD, FXRDG, FXRP, FXRS, FXRSE, FXRS-Conv., FXRS-SP,
FXRT, FXS, FXSB, FXST, FXSTC, FXSTD, FXSTS,FXSTSB, FXWG, GE, K, KH, WL, WLA,
XL, XLCH, XLCR, XLH, XLH 883, XLH 1100, XLH 1200, XLR, XLS, XLT, XLX and
XR1000. Buell, S1, S2, M2, Cyclone, Lighting, Thunderbolt, X1. All other brand names
or trademarks, or registered trademarks used in this catalog are the property of their
respective holders.

Please review our terms and conditions page Thank You