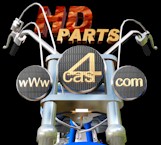 HARLEY PARTS
High Quality Parts from CAS4


ALUMINUM SWINGARMS
JMC Aluminum Swingarms are hand-made in England of 7020 Aircraft grade Alloy. That is the highest quality and strongest weldable alloy available for any price. They can easily handle the torque requirements of the hottest street engines of any size. Besides giving your bike a very "Trick" appearence, and lowering or raising capabilities, you will immediately enjoy improved ride and handling because of the low un-sprung weight and ridgidity of the swingarm. These swingarm's can take off as much as 21 pounds of your bike's weight. That's like getting 2-3 more Horsepower for free!
WE DO NOT SELL JMC SWINGARMS ANYMORE
DO NOT CALL US TO ORDER THESE

CLICK ON IMAGES BELOW FOR ORDER AND FITMENT INFO:
NOTE: Eccentric Axle adjuster tool is required. Two work best, but one is required.


ECCENTRIC ADJUSTER
Standard on all our JMC swingarms.
JMC Eccentric adjusters will make a difference to the ride height of the Motorcycle by a maximum of 16mm from the standard position,many people are rather paranoid about this thinking that this will influence the handling. In fact it can be an advantage as you may adjust the ride height to your preference. The ride height adjustment may generally be either above the 3 to 9 oclock position or below this. There are a few bikes that require the adjustmentt to be either above or below due to restrictions on rear brake caliper,or chain fouling the swingarm. In these cases adjustment must be made in a direction that eliminates this. For purposes of adjustment a purpose made tool is available.

Pro-Street P-35
Axle Adjuster
SPECIAL ORDER


NOTE : The Eccentric Adjuster is standard on all the JMC swingarms that we stock.

Both the Pro-Street " P-35 & P-115" are special order options.
Lead times for these optional axle adjusters vary from 4 to 16 weeks.
Special order swingarms are made as needed.
Extended length options are also avalable, up to 6" over stock length.

P-35 Axle Adjuster ADD : $125.00 per swingarm
P-115 Axle Adjuster ADD : $125.00 per swingarm
Extended Length's ADD : $125.00 per swingarm


Pro-Street P115
Axle Adjuster
SPECIAL ORDER


This Type of Adjuster is favoured for use where an increase in wheelbase may be required for Drag racing/Sports events, the forward most position is the same as the forward most position on the standard swingarm but then has the advantage of 115mm (over 4 -1/2") of further adjustment. Wheel adjustment is carried out by loosening large Nyloc nut then turning 8mm bolt (clockwise) to lengthen wheelbase or (anticlockwise) to shorten wheelbase. As can be seen the ajuster bolt remains inside the ajuster housing in all positions so does not leave an unsightly bolt protruding from the back of the swingarm . If more than 115mm of arm extension is required this can be accomplished by requesting the arm to be made longer.
ALUMINIUM SWINGARMS

JMC 7020 Series Aluminium Swingarms are an advanced range of swingarms bristling with

innovative features in material and design.

7020 is the international designation for a high strengh aluminium alloy in fact the highest

strength weldable aluminium available.7020 has the unique ability to regain most of its original

strength after welding,other commercial aluminium will not do this.See extract from B.S.I. table below.

Condition
H30 Alloy
7020 Alloy
7020 % Better
Tensile Strength before Welding
310
350
13%
Tensile Strengh after Welding
225
315
40%
Fatigue Strength
102
125
22.5%
WE DO NOT SELL JMC SWINGARMS ANYMORE
DO NOT CALL US TO ORDER THESE


If you don't see it here, E-mail us.
We haven't had a chance to post it yet.

IMPORTANT:

We at CAS are not a representative of any motorcycle manufacturer and the
parts we sell are not necessarily recommended by any motorcycle manufacturer.

Although our replacement parts are not original factory equipment, our intention
is to provide quality replacement parts that meet or exceed standards set by the
manufacturer.

We are not an authorized Harley® dealer and in no way do we have, or intend to
imply any kind of business relationship with Harley-Davidson Motor Company® .

Our intention is to provide products that can be used on a Harley-Davidson®
motorcycle.

CAS sells officially licensed Harley-Davidson® products.
However, any products with the trademark, name, word or OEM part number
used in this catalog by CAS is intended to be as a reference only to
the usage of that particular product. None of the parts and accessories in this
catalog were manufactured by or with the permission of the Harley-Davidson®
Motor Co. The words, TC88, Electra Glide, Evolution, H-D, Harley, Harley-Davidson, Low
Glide, Road King, Roadster, Softail, Sportster, Sturgis, Super Glide, Low Rider, and
Wide Glide are registered trademarks of Harley-Davidson® Inc., Milwaukee
Wisconsin, U.S.A. The words, Duo Glide, Dyna Glide, Fat Boy, Hydra Glide and
Bad Boy are trademarks of Harley-Davidson®, Inc., Milwaukee, Wisconsin, U.S.A.
The following model designations for Harley-Davidson® motorcycles are used in
this catalog for reference only: EL, FL, FLH, FLHR, FLHS, FLHT, FLHTC, FLHTC-I,
FLHTS, Ultra, FLHX, FLST, FLSTC, FLSTF, FLSTN, FLSTS, FLT, FLTC, FLTC Ultra,
FXB, FXD, FXDB, FXDC, FXDG, FXDL, FXDS, FXDS-Conv., FXDWG, FXE, FXEF,
FXLR, FXR, FXRC, FXRD, FXRDG, FXRP, FXRS, FXRSE, FXRS-Conv., FXRS-SP,
FXRT, FXS, FXSB, FXST, FXSTC, FXSTS,FXSTSB, FXWG, GE, K, KH, WL, WLA,
XL, XLCH, XLCR, XLH, XLH 883, XLH 1100, XLH 1200, XLR, XLS, XLT, XLX and
XR1000. Buell, S1, S2, M2, Cyclone, Lighting, Thunderbolt, X1. All other brand names
or trademarks, or registered trademarks used in this catalog are the property of their
respective holders.

Please review our terms and conditions page Thank You