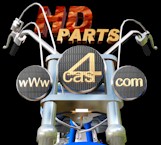 HARLEY PARTS
High Quality Parts from CAS4
DAKOTA DIGITAL
FATBOB STYLE GAUGE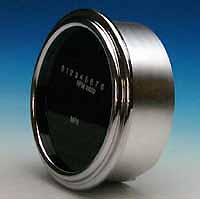 The leader in digital instruments is now
taking Harley's into the 21st century...

Our newest vacuum fluorescent instrument system to replace your stock "Fat-Bob" style speedometer on your Harley-Davidson. This system will fit most single gauge tank mount applications including the Road King*. Our high-contrast teal display is utilized so that the HLY-2000 can be easily read in direct sunlight. The HLY-2000 mounts directly into both the newer style stock dash panel and the older dash panel. Sending unit and adapter packages available for either electronic or cable drive applications.
*Road King applications may require some harness modifications
Standard Features:


Neutral indicator uses unique "moving" display to illustrate neutral position. Eye catching 3 position "walking bar" on each side of odometer moves from top to bottom of display.




Low Voltage and Low oil flashing warning indicator flashes warning when engine or electrical problems arise. Both warnings are displayed by the odometer/trip odometer message center Warning indicators can replace or be used in addition to stock warning indicators. Warning flashes as long as there is a problem. Indicators work in conjunction with the stock warning indicator switches.



Left and right turn signals, and a high beam indicator are included in the speedometer area. High beam indicator can be wired in place of or in addition to stock light. Odometer also functions as a resettable trip odometer.

Check out these features:
Speedometer readings to 255 MPH (KPH available)
Quick response bar graph tachometer.
Odometer / trip odometer.
Left and right turn signals.
Automatic turn signal canceling compatible.
Low voltage and low oil warning indicator.
Neutral indicator.
High-contrast teal green displays.
High-quality milled housing with chrome trim ring.
Available for electronic and cable drive applications.
No sending units to change.
One touch Speedometer Calibration.
TWO YEAR WARRANTY!
Part #
Description
List Price
Your Price
Dakota Digital Fat Bob Gauge System
DS250041
MPH speedometer / tachometer / gauge, HLY-2001
$455.95
$399.95
DS250002
Adapter for 1996 - 2000 Electronic Transmission Sender, SEN-2012
$22.95
$19.95
DS250003
Adapter Sender for Cable Drive Applications, SEN-2011
$37.95
$33.95
DS250004
Inductive pickup sender. (reads the trans. gear teeth or steel rear sprocket teeth) SEN-2019
$65.95
$58.95
DS250040
Rear wheel sensor for Softail and rigid belt-drive applications
$125.95
$115.95


If you don't see it here, E-mail us.
We haven't had a chance to post it yet.

IMPORTANT:

We at CAS are not a representative of any motorcycle manufacturer and the
parts we sell are not necessarily recommended by any motorcycle manufacturer.

Although our replacement parts are not original factory equipment, our intention
is to provide quality replacement parts that meet or exceed standards set by the
manufacturer.

We are not an authorized Harley® dealer and in no way do we have, or intend to
imply any kind of business relationship with Harley-Davidson Motor Company® .

Our intention is to provide products that can be used on a Harley-Davidson®
motorcycle.

CAS sells officially licensed Harley-Davidson® products.
However, any products with the trademark, name, word or OEM part number
used in this catalog by CAS is intended to be as a reference only to
the usage of that particular product. None of the parts and accessories in this
catalog were manufactured by or with the permission of the Harley-Davidson®
Motor Co. The words, TC88, Electra Glide, Evolution, H-D, Harley, Harley-Davidson, Low
Glide, Road King, Roadster, Softail, Sportster, Sturgis, Super Glide, Low Rider, and
Wide Glide are registered trademarks of Harley-Davidson® Inc., Milwaukee
Wisconsin, U.S.A. The words, Duo Glide, Dyna Glide, Fat Boy, Hydra Glide and
Bad Boy are trademarks of Harley-Davidson®, Inc., Milwaukee, Wisconsin, U.S.A.
The following model designations for Harley-Davidson® motorcycles are used in
this catalog for reference only: EL, FL, FLH, FLHR, FLHS, FLHT, FLHTC, FLHTC-I,
FLHTS, Ultra, FLHX, FLST, FLSTC, FLSTF, FLSTN, FLSTS, FLT, FLTC, FLTC Ultra,
FXB, FXD, FXDB, FXDC, FXDG, FXDL, FXDS, FXDS-Conv., FXDWG, FXE, FXEF,
FXLR, FXR, FXRC, FXRD, FXRDG, FXRP, FXRS, FXRSE, FXRS-Conv., FXRS-SP,
FXRT, FXS, FXSB, FXST, FXSTC, FXSTS,FXSTSB, FXWG, GE, K, KH, WL, WLA,
XL, XLCH, XLCR, XLH, XLH 883, XLH 1100, XLH 1200, XLR, XLS, XLT, XLX and
XR1000. Buell, S1, S2, M2, Cyclone, Lighting, Thunderbolt, X1. All other brand names
or trademarks, or registered trademarks used in this catalog are the property of their
respective holders.

Please review our terms and conditions page Thank You