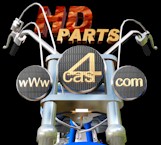 HARLEY PARTS
High Quality Parts from CAS4
MVX SERIES SPEEDO - TACH
INSTRUMENT CLUSTER COMBO
2004 - 2013 Harley Davidson OEM Dash Mount
2004 - 2013 - MVX SERIES TANK MOUNT ANALOG/ DIGITAL GAUGE SYSTEM
Harley 4-1/2" Analog Replacement w/ Direct ECM Plug-In, 2004-2013 Models w/ Tank Mounted Gauge
The all new MVX-2004 electronic instrumentation system offers a 140 MPH Speedometer, Tachometer with an adjustable shift point, odometer with dual resettable trip meters and a full complement of indicators to provide a complete information system.
Designed to fit single 5" gauge tank mount applications:
2004-2013 Road King / 2004-2010 Softail / 2004-2011 Dyna Models
Does not fit Deuce.
7 individually user-selectable colors for Pointer, Backlight and LCD Message Center:

Red
Green
Blue
Teal
Magenta
Amber
White

4 Different face options available:

Black w/ Red Accents
Black w/ Gray Accents
White w/ Red Accents
White w/ Gray Accents

Chrome or Black bezel option
140 MPH speedometer.
Tachometer with adjustable shift point, can also display in digital numeric readout.
Odometer with two resettable trip odometers.
Resettable Miles to Service with warning (user settable countdown) and hourmeter.
Clock (12 hour format)
Voltage readout with low voltage alert.
Cylinder Head Temp (requires factory sender equipped on some bikes).
Oil/ Air Pressure sender sold separately, (SEN-1031 or SEN-1032)
Oil Temperature sender sold separately, (SEN-1043 or SEN-1044) eliminates cylinder head temp if used
7 Speed Gear Position Indicator compatible with 3- 7 speed transmissions.
Various indicators can also be displayed such as Turn Signal, High Beam, Neutral, Low Oil Pressure, Low Voltage and Security Indicators
ABS Indicator
Cruise on and Cruise engaged indication
Security Indicator
Automatic turn signal cancelling compatible.
"Wait to start" / Check Engine light.
Several performance calculations include: 0- 60 time, high speed & high RPM recall, 1/4 mile time and speed.
Additional gauges that can be added to the MVX Series by use of the Dakota Digital MBM expansion modules are:
Air Suspension Pressure(single or dual readings)

MBM-19 - Includes 1 sender. Additional sender SEN-1901 sold seperate.

Boost

MBM-09 - Sender included.

GPS-Powered Compass

MBM-17

Have a Police model or bike without air temp? Add the Ambient Air Temperature sender SEN-1701 (sold separately) to the MBM-17
** Limited Two Year Warranty!
Case diameter measures 4-1/4", bezel diameter of 4-5/8"
Dakota Digital Instrument systems are shipped from the factory with "0" miles on the odometer. Odometer mileage is now user settable one time and must be done before the odometer reaches 100 miles. This can be done at the factory for a charge of $20 if unable to be set before 100 miles, or if set incorrectly. Please contact Dakota Digital to arrange this service.


If you don't see it here, E-mail us.
We haven't had a chance to post it yet.

IMPORTANT:



We at CAS are not a representative of any motorcycle manufacturer and the
parts we sell are not necessarily recommended by any motorcycle manufacturer.

Although our replacement parts are not original factory equipment, our intention
is to provide quality replacement parts that meet or exceed standards set by the
manufacturer.

We are not an authorized Harley® dealer and in no way do we have, or intend to
imply any kind of business relationship with Harley-Davidson Motor Company® .

Our intention is to provide products that can be used on a Harley-Davidson®
motorcycle.

CAS sells officially licensed Harley-Davidson® products.
However, any products with the trademark, name, word or OEM part number
used in this catalog by CAS is intended to be as a reference only to
the usage of that particular product. None of the parts and accessories in this
catalog were manufactured by or with the permission of the Harley-Davidson®
Motor Co. The words, TC88, Electra Glide, Evolution, H-D, Harley, Harley-Davidson, Low
Glide, Road King, Roadster, Softail, Sportster, Sturgis, Super Glide, Low Rider, and
Wide Glide are registered trademarks of Harley-Davidson® Inc., Milwaukee
Wisconsin, U.S.A. The words, VROD, V-ROD, Duo Glide, Dyna Glide, Fat Boy, Hydra Glide
and Bad Boy are trademarks of Harley-Davidson®, Inc., Milwaukee, Wisconsin, U.S.A.
The following model designations for Harley-Davidson® motorcycles are used in
this catalog for reference only: EL, FL, FLH, FLHR, FLHS, FLHT, FLHTC, FLHTC-I,
FLHTS, Ultra, FLHX, FLST, FLSTC, FLSTF, FLSTN, FLSTS, FLT, FLTC, FLTC Ultra,
FXB, FXD, FXDB, FXDC, FXDG, FXDL, FXDS, FXDS-Conv., FXDWG, FXE, FXEF,
FXLR, FXR, FXRC, FXRD, FXRDG, FXRP, FXRS, FXRSE, FXRS-Conv., FXRS-SP,
FXRT, FXS, FXSB, FXST, FXSTC, FXSTD, FXSTS,FXSTSB, FXWG, GE, K, KH, WL, WLA,
XL, XLCH, XLCR, XLH, XLH 883, XLH 1100, XLH 1200, XLR, XLS, XLT, XLX and
XR1000. Buell, S1, S2, M2, Cyclone, Lighting, Thunderbolt, X1. All other brand names
or trademarks, or registered trademarks used in this catalog are the property of their
respective holders.

Please review our terms and conditions page Thank You