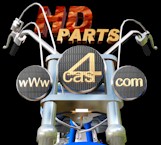 HARLEY PARTS
High Quality Parts from CAS4

Credit Card Fraud Policy

Please read our information on credit card fraud before submitting this order.


A QUICK NOTE ON CREDIT CARD FRAUD.

What constitutes credit card fraud?

You use your credit card to order a product and then claim that you did not authorize such transaction, that you have no idea what the charge is for and/or you claim the card number was stolen. Any other statement which you know is not true. Using someone else's Credit Card without their permission. Common Sense legal issues.

What happens when you falsely dispute a charge?

Falsely denying payment on your credit card may result in action against you for the amount disputed, plus the cost of paying the collection agency and/or lawyers processed by an international collection agency with independent representatives in America, Europe and Asia, plus costs for round trip airfare, motel, food, and labor costs for the designated agent to appear in court. Credit card fraud is a serious offense and will be prosecuted to the fullest extent possible. This no tolerance policy of fighting back each and every case of credit card fraud by the designated agent will cost you much more money than the original amount of the product(s) you received.

How can we prove your identity?

Through your IP address. In court the IP address will verify your identity and exact time you used the system.

How? By subpoena or your Internet service provider to obtain your identity. Your Internet service provider is forced through the court subpoena process to give up this confidential information. Your ISP's log file history will show exactly what modem and port you logged on through and makes identification through your Account Name and Password. Even AOL and other dynamic IP addresses gives us the information needed to prosecute.

How do we collect on fraudulent claims?

Liens on your property, bank account, and garnishing of wages. This may also result in a report being filed with 3 major credit reporting agencies once our case is won. We sincerely hope that it will not come to this, but credit card fraud can not and will not be tolerated. It undermines the entire growth of the Internet and computer companies worldwide

How serious is Credit Card Fraud ?
Credit card fraud is a felony and we will aggressively prosecute anyone attempting to misuse a credit card number. We track every transaction and will use all means available to prosecute persons attempting fraud. Simply put, usage of stolen credit cards is a FEDERAL offense. People who commit credit card fraud and use stolen credit cards will be prosecuted to the fullest extent possible of the law by contacting the proper authorities.
We sincerely apologize for having to include this message, but it's those few people out there who force us to take these extreme measures. We take credit card security serious and spare no expense using the latest security measures available to go after the .1% of bad who try to ruin the internet for the all of us.



If you don't see it here, E-mail us.
We haven't had a chance to post it yet.

IMPORTANT:



We at CAS are not a representative of any motorcycle manufacturer and the
parts we sell are not necessarily recommended by any motorcycle manufacturer.

Although our replacement parts are not original factory equipment, our intention
is to provide quality replacement parts that meet or exceed standards set by the
manufacturer.

We are not an authorized Harley® dealer and in no way do we have, or intend to
imply any kind of business relationship with Harley-Davidson Motor Company® .

Our intention is to provide products that can be used on a Harley-Davidson®
motorcycle.

CAS sells officially licensed Harley-Davidson® products.
However, any products with the trademark, name, word or OEM part number
used in this catalog by CAS is intended to be as a reference only to
the usage of that particular product. None of the parts and accessories in this
catalog were manufactured by or with the permission of the Harley-Davidson®
Motor Co. The words, TC88, Electra Glide, Evolution, H-D, Harley, Harley-Davidson, Low
Glide, Road King, Roadster, Softail, Sportster, Sturgis, Super Glide, Low Rider, and
Wide Glide are registered trademarks of Harley-Davidson® Inc., Milwaukee
Wisconsin, U.S.A. The words, VROD, V-ROD, Duo Glide, Dyna Glide, Fat Boy, Hydra Glide
and Bad Boy are trademarks of Harley-Davidson®, Inc., Milwaukee, Wisconsin, U.S.A.
The following model designations for Harley-Davidson® motorcycles are used in
this catalog for reference only: EL, FL, FLH, FLHR, FLHS, FLHT, FLHTC, FLHTC-I,
FLHTS, Ultra, FLHX, FLST, FLSTC, FLSTF, FLSTN, FLSTS, FLT, FLTC, FLTC Ultra,
FXB, FXD, FXDB, FXDC, FXDG, FXDL, FXDS, FXDS-Conv., FXDWG, FXE, FXEF,
FXLR, FXR, FXRC, FXRD, FXRDG, FXRP, FXRS, FXRSE, FXRS-Conv., FXRS-SP,
FXRT, FXS, FXSB, FXST, FXSTC, FXSTD, FXSTS,FXSTSB, FXWG, GE, K, KH, WL, WLA,
XL, XLCH, XLCR, XLH, XLH 883, XLH 1100, XLH 1200, XLR, XLS, XLT, XLX and
XR1000. Buell, S1, S2, M2, Cyclone, Lighting, Thunderbolt, X1. All other brand names
or trademarks, or registered trademarks used in this catalog are the property of their
respective holders.

Please review our terms and conditions page Thank You