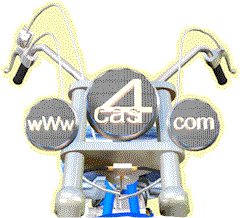 Black Widow
FLST ® Style Aftermarket
Complete Motorcycle Kit
2000 MODEL'S
Superior Reliability From



Includes:

WHAT YOU SEE IN THE PICTURE BELOW
180 Series Wide Rear Tire with Belt Drive
Regency 6 Gallon Fuel Tanks
Santee Low Glide Custom Frame
more details listed below...

Every nut, washer, bolt, spacer and cable is included
Complete Motorcycle Kit, no forgotten parts.
Wide Front End
16" Chrome Spoke Front Wheel
16" Chrome Spoke Rear Wheel
Chrome Oil Tank
Chrome Rocker Boxes
Chrome Outer Primary
Dual Touring Seat
Complete Brake System
Complete Electrical System
180 Series Rear Tire
Wide Custom Front End
Smooth Chrome Handlebar Control
Digital Electronic Ignition System
70 Tooth Rear Pulley
32 Tooth Front Pulley
Complete Chain Primary Driven System
Chrome Steel Forward Controls
Complete Charging System
Fat Bob Speedo
Chrome Cast Dash
Shot Gun Pipes
Full Fenders
Assembled Motor
Assembled Transmission
Note: All parts are not listed here
Note: Assembly required by certified technician.

Note: Specifications and some components subject to change based on availablity, although fitment will remain the same and guaranteed. This kit includes everything needed to assemble a finished motorcycle from scratch( except paint, engine fluids and labor to assemble).
IMPORTANT:

We at CAS are not a representative of any motorcycle manufacturer and the
parts we sell are not necessarily recommended by any motorcycle manufacturer.

Although our replacement parts are not original factory equipment, our intention
is to provide quality replacement parts that meet or exceed standards set by the
manufacturer.

We are not an authorized Harley® dealer and in no way do we have, or intend to
imply any kind of business relationship with Harley-Davidson Motor Company® .

Our intention is to provide products that can be used on a Harley-Davidson®
motorcycle.

CAS sells officially licensed Harley-Davidson® products.
However, any products with the trademark, name, word or OEM part number
used in this catalog by CAS is intended to be as a reference only to
the usage of that particular product. None of the parts and accessories in this
catalog were manufactured by or with the permission of the Harley-Davidson®
Motor Co. The words, Electra Glide, Evolution, H-D, Harley, Harley-Davidson, Low
Glide, Road King, Roadster, Softail,Sportster,Sturgis, Super Glide,Low Rider, and
Wide Glide are registered trademarks of Harley-Davidson®,Inc.,Milwaukee
Wisconsin, U.S.A.The words, Duo Glide, Dyna Glide,Fat Boy, Hydra Glide and
Bad Boy are trademarks of Harley-Davidson®,Inc., Milwaukee, Wisconsin,U.S.A.
The following model designations for Harley-Davidson® motorcycles are used in
this catalog for reference only:EL,FL,FLH,FLHR,FLHS,FLHT,FLHTC,FLHTC-I,
FLHTS,Ultra,FLHX,FLST,FLSTC,FLSTF,FLSTN,FLSTS,FLT,FLTC,FLTC Ultra,
FXB,FXD,FXDB,FXDC,FXDG,FXDL,FXDSFXDS-Conv.,FXDWG,FXE, FXEF,
FXLR, FXR, FXRC, FXRD,FXRDG,FXRP,FXRS, FXRSE,FXRS-Conv.,FXRS-SP,
FXRT, FXS, FXSB, FXST, FXSTC, FXSTS,FXSTSB,FXWG, GE,K,KH,WL,WLA,
XL,XLCH,XLCR,XLH,XLH 883, XLH 1100, XLH 1200, XLR, XLS, XLT, XLX,
AND XR1000. All other brand names or trademarks, or registered trademarks
used in this catalog are the property of their respective holders.

Please review our terms and conditions page Thank You