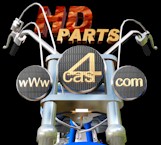 EMC, Harley Supercharger, Harley Super Charger
High Quality Parts from CAS4
SUPERCHARGER
WE NO LONGER SELL THESE -
DO NOT CALL US ABOUT THESE !!
WE WILL KEEP THE POST UP
4 THE COOL PICTURES !!!


BLOWER DISPLACEMENT MEASURED BY THE ROTOR LENGTH
2.5"=67ci 3.0"=80ci 3.5"=93ci 4.0"=106ci per revolution
Torqmultiplier-Supercharger-Blower
Supercharger mounted on primary side, for closed or open belt drive.

Made of billet alum polished and chromed front.

Four sizes of rotors 2.5, 3.0, 3.5, & 4.0 inch.

Self contained gear oil lubricationg internal gears.

Hard anodized teflon impregnated rotors.

Belt sprockets are anodized and teflon coated.

Precision ground rotor shafts.

Stainless steel inlet manifold for S&S flange.

Stainless steel exit manifold with popoff valve.

Air box comes with round or diamond shapes.

Complete mounting bkt hardware for variety of motors.

Made for sportsters, evolution, twincam motors.

Boost gauge 0-15 psi and 0-30" mercury.

Options of ss carb "e" or "g" .

Adjustable bypass for reducing boost Intake manifold has additional spigots welded.

Air filter by KN with Aluminum cover.


If you don't see it here, E-mail us.
We haven't had a chance to post it yet.

IMPORTANT:

We at CAS are not a representative of any motorcycle manufacturer and the
parts we sell are not necessarily recommended by any motorcycle manufacturer.

Although our replacement parts are not original factory equipment, our intention
is to provide quality replacement parts that meet or exceed standards set by the
manufacturer.

We are not an authorized Harley® dealer and in no way do we have, or intend to
imply any kind of business relationship with Harley-Davidson Motor Company® .

Our intention is to provide products that can be used on a Harley-Davidson®
motorcycle.

CAS sells officially licensed Harley-Davidson® products.
However, any products with the trademark, name, word or OEM part number
used in this catalog by CAS is intended to be as a reference only to
the usage of that particular product. None of the parts and accessories in this
catalog were manufactured by or with the permission of the Harley-Davidson®
Motor Co. The words, TC88, Electra Glide, Evolution, H-D, Harley, Harley-Davidson, Low
Glide, Road King, Roadster, Softail, Sportster, Sturgis, Super Glide, Low Rider, and
Wide Glide are registered trademarks of Harley-Davidson® Inc., Milwaukee
Wisconsin, U.S.A. The words, Duo Glide, Dyna Glide, Fat Boy, Hydra Glide and
Bad Boy are trademarks of Harley-Davidson®, Inc., Milwaukee, Wisconsin, U.S.A.
The following model designations for Harley-Davidson® motorcycles are used in
this catalog for reference only: EL, FL, FLH, FLHR, FLHS, FLHT, FLHTC, FLHTC-I,
FLHTS, Ultra, FLHX, FLST, FLSTC, FLSTF, FLSTN, FLSTS, FLT, FLTC, FLTC Ultra,
FXB, FXD, FXDB, FXDC, FXDG, FXDL, FXDS, FXDS-Conv., FXDWG, FXE, FXEF,
FXLR, FXR, FXRC, FXRD, FXRDG, FXRP, FXRS, FXRSE, FXRS-Conv., FXRS-SP,
FXRT, FXS, FXSB, FXST, FXSTC, FXSTD, FXSTS,FXSTSB, FXWG, GE, K, KH, WL, WLA,
XL, XLCH, XLCR, XLH, XLH 883, XLH 1100, XLH 1200, XLR, XLS, XLT, XLX and
XR1000. Buell, S1, S2, M2, Cyclone, Lighting, Thunderbolt, X1. All other brand names
or trademarks, or registered trademarks used in this catalog are the property of their
respective holders.

Please review our terms and conditions page Thank You