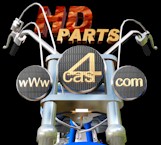 HARLEY PARTS
High Quality Parts from CAS4
Designed by CAS4 Inc.
IRON CROSS LIGHTS
BULLET MALTESE
DESIGNED by CAS4 INC.
MALTESE CROSS BULLET LED TAILLIGHTS. Sold in pairs.
Part # CAS4MALBULTAIL, $ 59.95 - Click Here to Order
Also Available, Maltese Cross LED Tail / Brake Light Only
Part # CAS4MALBRKLT, $ 52.00 - Click Here to Order
Light are designed as accessory lighting only, NOT DOT APPROVED
UNIVERSAL SIDE MOUNTING BRACKET CLICK HERE


If you don't see it here, E-mail us.
We haven't had a chance to post it yet.

IMPORTANT:



We at CAS are not a representative of any motorcycle manufacturer and the
parts we sell are not necessarily recommended by any motorcycle manufacturer.

Although our replacement parts are not original factory equipment, our intention
is to provide quality replacement parts that meet or exceed standards set by the
manufacturer.

We are not an authorized Harley® dealer and in no way do we have, or intend to
imply any kind of business relationship with Harley-Davidson Motor Company® .

Our intention is to provide products that can be used on a Harley-Davidson®
motorcycle.

CAS sells officially licensed Harley-Davidson® products.
However, any products with the trademark, name, word or OEM part number
used in this catalog by CAS is intended to be as a reference only to
the usage of that particular product. None of the parts and accessories in this
catalog were manufactured by or with the permission of the Harley-Davidson®
Motor Co. The words, TC88, Electra Glide, Evolution, H-D, Harley, Harley-Davidson, Low
Glide, Road King, Roadster, Softail, Sportster, Sturgis, Super Glide, Low Rider, and
Wide Glide are registered trademarks of Harley-Davidson® Inc., Milwaukee
Wisconsin, U.S.A. The words, VROD, V-ROD, Duo Glide, Dyna Glide, Fat Boy, Hydra Glide
and Bad Boy are trademarks of Harley-Davidson®, Inc., Milwaukee, Wisconsin, U.S.A.
The following model designations for Harley-Davidson® motorcycles are used in
this catalog for reference only: EL, FL, FLH, FLHR, FLHS, FLHT, FLHTC, FLHTC-I,
FLHTS, Ultra, FLHX, FLST, FLSTC, FLSTF, FLSTN, FLSTS, FLT, FLTC, FLTC Ultra,
FXB, FXD, FXDB, FXDC, FXDG, FXDL, FXDS, FXDS-Conv., FXDWG, FXE, FXEF,
FXLR, FXR, FXRC, FXRD, FXRDG, FXRP, FXRS, FXRSE, FXRS-Conv., FXRS-SP,
FXRT, FXS, FXSB, FXST, FXSTC, FXSTD, FXSTS,FXSTSB, FXWG, GE, K, KH, WL, WLA,
XL, XLCH, XLCR, XLH, XLH 883, XLH 1100, XLH 1200, XLR, XLS, XLT, XLX and
XR1000. Buell, S1, S2, M2, Cyclone, Lighting, Thunderbolt, X1. All other brand names
or trademarks, or registered trademarks used in this catalog are the property of their
respective holders.

Please review our terms and conditions page Thank You