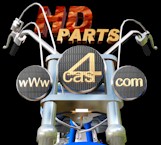 High Quality Parts from CAS4
Crame Cams
VOLTAGE REGULATOR
CHARGER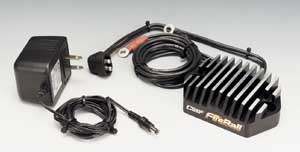 Unique "Series Design" Regulator Provides Proven HP Increase by Eliminating Alternator "Drag"! At high RPM or when battery is fully charged, "disconnects" alternator operation, applying formerly wasted HP to rear wheel!

Billet Extruded Aluminum, "Bad-Ass Black" with Brushed Fins! Absolutely the best looking regulator available! Easy plug-in installation!

Maximum Battery Charging with All Alternators! Works great with stock and all "high-output" alternators!

Plug-in 110v AC Outlet "Smart" Charger Keeps Battery "Topped Off"! Prevents damaging overcharges and dangerous "boil-over"! Extends battery life! Compact, convenient, "take it anywhere" size!

Great for Weekend Riders or Anyone Who Stores Their Bike for Days, Weeks, Months! "Smart" charger with microchip-controlled "pulse" charging, charges only when necessary. "Trickle" or "float" chargers can overcharge, reducing battery life.

Built-In Microcontroller "Chip" Adapts Instantly to All Operating Electrical System Needs, At All RPM Levels! Alternator charges only when needed. At high RPM (full-throttle, performance or race use) alternator function disconnects, increasing engine HP output!

Digital Microcontroller "Chip" Protects Against Heat! Reduces and compensates for damaging overheating with built-in temperature sensor! Protects alternator, regulator and battery!

Comparable Cost, Greater Reliability, Plus Built-In Convenience! Why pay extra for a billet regulator plus a "dumb" battery tender or charger that "cooks" your battery, boils-over, ruins your paint and floor? Crane FireBall regulator/charger has it all built-in, plus greater charging efficiency and reliability!
NOT FOR FUEL INJECTED MODELS !
| | | |
| --- | --- | --- |
| Part # | Description | List Price |
| DS326153 | 1999 - 2000 Softail / 1999 - 2001 Dyna, Twin Cam Models | DISCONTINUED |
| DS326151 | 1989 - 1999 Big Twin Evolution Models, (8-4050) | DISCONTINUED |
| DS326150 | 1981 - 1988 Big Twin Models, (8-4051) | DISCONTINUED |
| DS326152 | 1984 - 1999 XL Models, (8-4052) | DISCONTINUED |


If you don't see it here, E-mail us.
We haven't had a chance to post it yet.

IMPORTANT:

We at CAS are not a representative of any motorcycle manufacturer and the
parts we sell are not necessarily recommended by any motorcycle manufacturer.

Although our replacement parts are not original factory equipment, our intention
is to provide quality replacement parts that meet or exceed standards set by the
manufacturer.

We are not an authorized Harley Davidson® or Buell® dealer and in no way do we have, or intend to
imply any kind of business relationship with Harley-Davidson Motor Company® or Buell
Motorcycle Company®

Our intention is to provide products that can be used on a Harley-Davidson® and Buell
motorcycle.

CAS sells officially licensed Harley-Davidson® products.
However, any products with the trademark, name, word or OEM part number
used in this catalog by CAS is intended to be as a reference only to
the usage of that particular product. None of the parts and accessories in this
catalog were manufactured by or with the permission of the Harley-Davidson®
Motor Co. The words, TC88, Electra Glide, Evolution, H-D, Harley, Harley-Davidson, Low
Glide, Road King, Roadster, Softail, Sportster, Sturgis, Super Glide, Low Rider, and
Wide Glide are registered trademarks of Harley-Davidson® Inc., Milwaukee
Wisconsin, U.S.A. The words, Duo Glide, Dyna Glide, Fat Boy, Hydra Glide and
Bad Boy are trademarks of Harley-Davidson®, Inc., Milwaukee, Wisconsin, U.S.A.
The following model designations for Harley-Davidson® motorcycles are used in
this catalog for reference only: EL, FL, FLH, FLHR, FLHS, FLHT, FLHTC, FLHTC-I,
FLHTS, Ultra, FLHX, FLST, FLSTC, FLSTF, FLSTN, FLSTS, FLT, FLTC, FLTC Ultra,
FXB, FXD, FXDB, FXDC, FXDG, FXDL, FXDS, FXDS-Conv., FXDWG, FXE, FXEF,
FXLR, FXR, FXRC, FXRD, FXRDG, FXRP, FXRS, FXRSE, FXRS-Conv., FXRS-SP,
FXRT, FXS, FXSB, FXST, FXSTC, FXSTS,FXSTSB, FXWG, GE, K, KH, WL, WLA,
XL, XLCH, XLCR, XLH, XLH 883, XLH 1100, XLH 1200, XLR, XLS, XLT, XLX and
XR1000. Buell, S1, S2, M2, Cyclone, Lighting, Thunderbolt, X1. All other brand names
or trademarks, or registered trademarks used in this catalog are the property of their
respective holders.

Please review our terms and conditions page Thank You