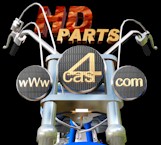 HARLEY PARTS
High Quality Parts from CAS4
AIR CLEANERS
by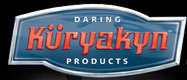 Pro-Series Hypercharger
This is it. . . The heavy artillary. The dyno and race track proven Küryakyn Hypercharger on sterioids. The new Pro Series Hyper is a totally new design. You'll be able to spot this distinctive new design a mile away. The body is now 1/2" wider and nicely contoured. One Piece construction, ball milled "speed lines", symmetrical butterflies, and new "Pro" embossed bearing cups give this new performance weapon a new look that screams Horsepower! Aside from the cosmetic makeover, significant changes have been made internally as well. Inner surfaces have been smoothed and relieved to work with the added air cleaner surface area for increased airflow and velocity.
The Pro-Series Hypercharger fits Stock or 44mm C.V. style carbs, and can be easily adapted to Mikuni 42 and S&S Shortys. Complete Pro-Series Hypercharger Kits for C.V. carbs.

Original Style HYPERCHARGER. These awesome, head-turning air cleaners with blood groove trap doors look red hot - and work as good as they look. Totally automatic, the vacuum pod opens the butterflies as your motor needs more air. No air cleaner you can buy will outflow or out perform the HyperCharger, which with it's serviceable K&N filter element, handles up to a 160 cubic inch engine. Available all chrome, or chrome with black butterflies. Kits include mounting hardware for stock CV type carburetor. S & S "E/G" model carbs and Mikuni HSR42 smoothbore require optional adapter kits-sold separately.


If you don't see it here, E-mail us.
We haven't had a chance to post it yet.

IMPORTANT:

We at CAS are not a representative of any motorcycle manufacturer and the
parts we sell are not necessarily recommended by any motorcycle manufacturer.

Although our replacement parts are not original factory equipment, our intention
is to provide quality replacement parts that meet or exceed standards set by the
manufacturer.

We are not an authorized Harley® dealer and in no way do we have, or intend to
imply any kind of business relationship with Harley-Davidson Motor Company® .

Our intention is to provide products that can be used on a Harley-Davidson®
motorcycle.

CAS sells officially licensed Harley-Davidson® products.
However, any products with the trademark, name, word or OEM part number
used in this catalog by CAS is intended to be as a reference only to
the usage of that particular product. None of the parts and accessories in this
catalog were manufactured by or with the permission of the Harley-Davidson®
Motor Co. The words, TC88, Electra Glide, Evolution, H-D, Harley, Harley-Davidson, Low
Glide, Road King, Roadster, Softail, Sportster, Sturgis, Super Glide, Low Rider, and
Wide Glide are registered trademarks of Harley-Davidson® Inc., Milwaukee
Wisconsin, U.S.A. The words, Duo Glide, Dyna Glide, Fat Boy, Hydra Glide and
Bad Boy are trademarks of Harley-Davidson®, Inc., Milwaukee, Wisconsin, U.S.A.
The following model designations for Harley-Davidson® motorcycles are used in
this catalog for reference only: EL, FL, FLH, FLHR, FLHS, FLHT, FLHTC, FLHTC-I,
FLHTS, Ultra, FLHX, FLST, FLSTC, FLSTF, FLSTN, FLSTS, FLT, FLTC, FLTC Ultra,
FXB, FXD, FXDB, FXDC, FXDG, FXDL, FXDS, FXDS-Conv., FXDWG, FXE, FXEF,
FXLR, FXR, FXRC, FXRD, FXRDG, FXRP, FXRS, FXRSE, FXRS-Conv., FXRS-SP,
FXRT, FXS, FXSB, FXST, FXSTC, FXSTS,FXSTSB, FXWG, GE, K, KH, WL, WLA,
XL, XLCH, XLCR, XLH, XLH 883, XLH 1100, XLH 1200, XLR, XLS, XLT, XLX,
AND XR1000. All other brand names or trademarks, or registered trademarks
used in this catalog are the property of their respective holders.

Please review our terms and conditions page Thank You