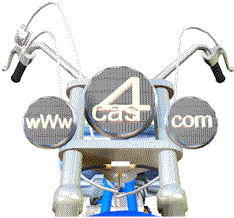 HIGH QUALITY PARTS FROM CAS4

FUEL TANK
SEALANT KITS PLUS
THESE CHEMICALS WILL NOT BE SHIPPED.
YOU CAN PICK THESE ITEMS UP AT ANY LOCAL HD SHOP - OR PICK THEM UP AT OUR SHOREFRONT ONLY.

Part Number
Description
Price
" Kreem Fuel Tank Prep Kit's "

The Kreem tank prep products and sealer kit combine to create an excellent
" Tank within a Tank."

Tank degreaser removes oil film from inside new tanks. The advanced sealer formula cures to a tough white skin which protects the inside of the tank from rust and corrosion. Resists leaded and unleaded gasoline, gasohol and octane boosters or fuel additives when used in recommended concentrations. Available in complete kit which includes the sealer and tank prep, or separately. Kreem tank mask protects paint finish on the exterior when treating the inside of the tank.
PICK UP ONLY
VT410113

" 3 Piece Kit "
Includes:
A: Tank Liner
B: Tank Prep Wash
C: Tank Prep Conditioner


$ 45.95

VT410110
A: Tank Liner Only
$ 27.95
VT410112
B: Tank Prep Wash
C: Tank Prep Conditioner
$ 27.95
VT410181
D: Tank Surface Mask
$ 27.95
VT410180
E: Tank Degreaser
$ 27.95

Questions or Comments, Please E-us.
IMPORTANT:

We at CAS are not a representative of any motorcycle manufacturer and the
parts we sell are not necessarily recommended by any motorcycle manufacturer.

Although our replacement parts are not original factory equipment, our intention
is to provide quality replacement parts that meet or exceed standards set by the
manufacturer.

We are not an authorized Harley® dealer and in no way do we have, or intend to
imply any kind of business relationship with Harley-Davidson Motor Company® .

Our intention is to provide products that can be used on a Harley-Davidson®
motorcycle.

CAS sells officially licensed Harley-Davidson® products.
However, any products with the trademark, name, word or OEM part number
used in this catalog by CAS is intended to be as a reference only to
the usage of that particular product. None of the parts and accessories in this
catalog were manufactured by or with the permission of the Harley-Davidson®
Motor Co. The words, Electra Glide, Evolution, H-D, Harley, Harley-Davidson, Low
Glide, Road King, Roadster, Softail,Sportster,Sturgis, Super Glide,Low Rider, and
Wide Glide are registered trademarks of Harley-Davidson®,Inc.,Milwaukee
Wisconsin, U.S.A.The words, Duo Glide, Dyna Glide,Fat Boy, Hydra Glide and
Bad Boy are trademarks of Harley-Davidson®,Inc., Milwaukee, Wisconsin,U.S.A.
The following model designations for Harley-Davidson® motorcycles are used in
this catalog for reference only:EL,FL,FLH,FLHR,FLHS,FLHT,FLHTC,FLHTC-I,
FLHTS,Ultra,FLHX,FLST,FLSTC,FLSTF,FLSTN,FLSTS,FLT,FLTC,FLTC Ultra,
FXB,FXD,FXDB,FXDC,FXDG,FXDL,FXDSFXDS-Conv.,FXDWG,FXE, FXEF,
FXLR, FXR, FXRC, FXRD,FXRDG,FXRP,FXRS, FXRSE,FXRS-Conv.,FXRS-SP,
FXRT, FXS, FXSB, FXST, FXSTC, FXSTS,FXSTSB,FXWG, GE,K,KH,WL,WLA,
XL,XLCH,XLCR,XLH,XLH 883, XLH 1100, XLH 1200, XLR, XLS, XLT, XLX,
AND XR1000. All other brand names or trademarks, or registered trademarks
used in this catalog are the property of their respective holders.

Please review our terms and conditions page Thank You